17 October
How law firms can support GCs on sustainability while balancing commercial realities
In the previous blog of our series, we heard from Yannick and Adrian about the importance of law firms stepping into the limelight and taking a stand on broader societal issues.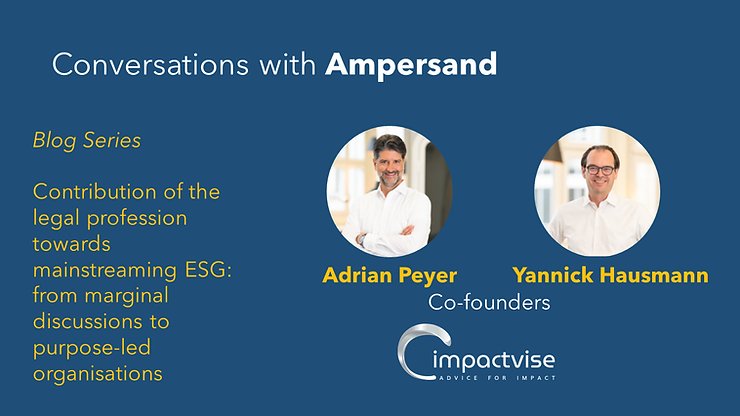 Part V looks at the elephant in the room - how can law firms take a stand and support clients on the sustainability agenda while balancing their own commercial realities? 

HDF:
Taking on a view of the wider value chain is very important. There is a key partnership between law firms and the way they support the General Counsel. For progressive law firms, how can they push the sustainability agenda and support their clients in practice? How do you see that relationship play out?

AP:
There are "two sides of the coin". One is to provide legal advice to the client on the journey of the company they represent. But law firms have great opportunities on their own ESG agenda and challenge their own principles and ways of working. 

Do clients' values match up to their own? It pushes law firms to start the difficult conversations with clients and challenge them to act more sustainably.

YH:
In the recent past, law firms were jumping on the ESG bandwagon as an opportunity to access the perceived ESG fee cake. Recently, the reality is that law firms need to walk the talk on ESG or risk being de-selected entirely.
Law firms reported that a couple of years ago, they got maybe one questionnaire on diversity from their clients. Now, they get multiple RFPs every week asking for data on ESG, so they have had to almost create departments addressing all these RFP questions just around ESG. 
So, there are two sides the law firms need to consider, and they are both equally important. 

Stay tuned: In our sixth and final blog of the series, we will look into how sustainability should be seen as a maturity journey. 

In case you missed it, read parts 1, 2 3, and 4 here. 
---


About us:

impactvise enables lawyers to act and advise for positive impact by providing industry-leading ESG data analytics, sustainability-oriented consulting, and educational training for the legal services sector. 

Ampersand Partners is a management consultancy bringing strategic clarity and execution momentum to accelerate the transition to a sustainable, regenerative economy. The Energy Transition and Sustainability practice helps energy companies navigate the energy transition and non-energy clients deliver their net zero ambitions